Last night I finished the other book I picked up on
my visit to The Strand last month
.
The Mysterious Benedict Society by Trenton Lee Stewart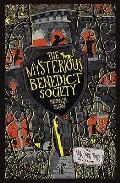 Four children with unusual talents are recruited for a top-secret mission. There is only one rule - there are no rules.
How can they work together to save the world?
A cracking adventure begins...
Reynie Muldoon, Sticky Washington, Kate Wetherall, and Constance Contraire each answer a curious ad in the paper ("Are you a gifted child looking for special opportunities?") and pass a series of befuddling tests before meeting Mr. Benedict, an intelligent eccentric who has a mission for them. The mission can only be completed by a group of children and the fate of the world is at stake.
The Mysterious Benedict Society
is the first in a series (followed by
MBS and the Perilous Journey
and
MBS and the Prisoner's Dilemma
). I doubt I'll read the other books because I didn't enjoy
The Mysterious Benedict Society
as much as I thought I would (BUT I'm not exactly the target audience).
1
I plan to send my copy of
The Mysterious Benedict Society
to... hmmmm... I was going to say "nieces" (children of sister-in-law #3), but now I'm thinking my nephew (son of sister-in-law #2) would like it as well. Maybe I'll have to buy a second copy.
The book is quite long (my British edition is 472 pages) and it dragged for me. I liked the first part of the book much better (the foundation of the society) than the mission itself (which should have been the exciting bit).