Graceling by Kristin Cashore
series: Seven Kingdoms (1)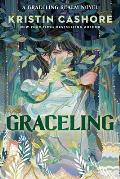 I don't remember the last time I "read" an audiobook so quickly. I finished
Graceling
today, only four days after I checked it out from the library's e-audio repository. Between recovering from the flu and the heavy snow (read: time spent outside shoveling), I've had lots of opportunity to listen lately, but I have to admit that I also made time to listen. I was utterly charmed by
Graceling
and by its main characters Katsa (despite her decidedly unsympathetic special ability) and Po (and also by Bitterblue, a secondary character, who seems to be the protagonist of the series' third installment). I wanted to know what would happen to them, if they'd be able to overcome the obstacles they were facing, so I manufactured listening time.
My reluctant-reader sister is going to be receiving a copy of the audio version of
Graceling
for her birthday.
Cashore's second book,
Fire
, another installment of the Seven Kingdoms series, was available from the library's ebook repository so I checked it out in anticipation of my quick completion of
Graceling
. I started
Fire
shortly after finishing
Graceling
. I didn't get far (my second round of snow shoveling today ended up taking much less time than I expected), but I already know that I'm not going to enjoy it as much as
Graceling
.
Fire
is a prequel to
Graceling
and just from what little I've heard (again, I'm listening to the audio version), I can tell that it's going to involve one of the least palatable characters from
Graceling
. Now I'm trying to decide whether I should wait some time before continuing on with
Fire
or not.