Courtney Crumrin: The Night Things by Ted Naifeh
series: Courtney Crumrin Special Edition (1)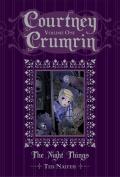 I purchased
The Night Things
last year at a local independent comic book/game shop (Modern Myths in Mamaroneck, NY) to read myself and then possibly send along to one of my nieces or nephews as appropriate. While I was immediately drawn to the
Courtney Crumrin
books (it seems like each of these hardcover special editions collects four issues of the comic) as the covers showcase Naifeh's characteristic gloomy artwork and are nicely tactile, but I held out for quite a while before I actually handed over my money.
I decided to read
The Night Things
last night as I needed a break from my regularly-scheduled flu reading (Terry Pratchett's
Tiffany Aching Adventures
; I'm on the third installment now). I have to admit, though, that I was a bit underwhelmed by it. When collected together the story seems disjointed in a way that it wouldn't when read in its original format. And, I wished there was more character development specifically with regard to Courtney's relationship to Aloysius. I will, however, give
The Night Things
another chance since it's quite likely that I'll be less critical when I'm not feeling so poorly.