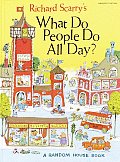 Last weekend Russell and I attended a birthday party for a one year-old. We brought two books for the birthday girl,
The Adventures of Lowly Worm
and
What Do People Do All Day?
both by Richard Scarry. Here's more or less what I wrote in the card:
I was so glad to see these two books on the birthday girl's wishlist because I would have bought them for her anyway. What Do People Do All Day? was the most popular book in the [maiden name] household for many a year and Lowly Worm taught the [maiden name] girls how to behave in polite society. My mom would often prompt my sister and/or I with "Would Lowly Worm say/do..." when we were learning to navigate through through the world.
I hope these books serve the birthday girl as well as our family's copies served my sister and I.