I reviewed Chandler Burr's
The Perfect Scent
almost exactly two years ago (see
review
). Since then I've nearly finished a bottle of Hermés'
Un Jardin sur le Nil
, one of the perfumes whose development Burr chronicles in the book, and developed a fascination with perfume. Reading about perfume can be quit difficult because it requires fragrance vocabulary (chypre? that means: with citrus top notes and woodsy base notes) and an extensive flavor knowledge (vetiver? that's a grass native to India; no idea what it smells like) in order to describe something that is highly experiential. I follow a number of fragrance blogs and make note of perfumes that sound like something I might like, but I'll admit that it really still is all Greek to me. I'm beginning to figure out how scents I enjoy are commonly described, but I'd never be able to a purchase a perfume scent unsniffed.
A week or two ago my friend Nancy (another fragrance enthusiast) pointed me to author M.J. Rose's new book,
The Book of Lost Fragrances
, and the fact that individuals who preorder it can get a free sample of a perfume inspired by the novel (this promotion ends March 1, details
here
). I really love the fact that there is a fragrance tie-in to this book and I think it might actually get me to preorder the book if I had a budget for personal book acquisition and made a practice of buying hardcovers when they first came out. I'd already requested a review copy from
Atria Books
, a Simon and Schuster imprint, via
NetGalley
so I decided that I'd read it sooner rather than later.
The Book of Lost Fragrances by M.J. Rose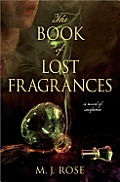 After the death of their father, Robert and Jacinthe L'Etoile inherit the family's distinguished perfume house, which is on the brink of financial ruin. Tensions between the siblings are high. Jac wants to sell two of the house's signature fragrances to keep the business afloat, while Robbie believes that he can find another way to save the struggling firm.
Family lore holds that a L'Etoile ancestor traveled to Egypt where he found a book formulas from Cleopatra's fragrance factory, which included a soul-mate perfume. When Robbie disappears after discovering what seems to be an priceless antiquity in their father's studio, ever-sceptical Jac is forced to consider the fact that the ancient memory aid might be more than just a legend and that people are willing to kill for it.
The novel's prologue takes the form of a 2007 newspaper article about a new regulation issued by China's State Administration for Religious Affairs that bans the reincarnation of Tibet's living Buddhas without permission.
The Book of Lost Fragrances
' narrative follows a number of different characters including a few Chinese and Tibetan throughout, but the direct connection to House of L'Etoile is made when Robbie, a practicing Buddhist, announces his plan to give the artifact to the Dalai Llama.
The Book of Lost Fragrances
is compelling reading, but I think that it could have been better. I don't mind the choppy narrative, that happens when perspective changes as often as it did, but there seemed to be a bit too much in the way of digression which is problematic in a thriller where tension is so important. Additionally some things about the plot felt forced or too convenient and some of the twists were obvious to me quite far off.
I did like extent to which scent was incorporated into the story and I loved that the siblings had a special scent language that they developed as children. I also appreciated the author's note, in which Rose separates fact from fiction.
There's a description of Sleepy Hollow that I'll highlight in a separate post.
The Book of Lost Fragrances
will be released in mid March.
disclosure: I received a review copy of The Book of Lost Fragrances from Atria Books via NetGalley.