The Light Keeper's Legacy by Kathleen Ernst
Series: Chloe Ellefson Mysteries, book 3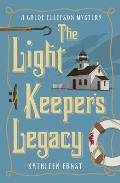 Chloe Ellefson, curator of collections for
Old World Wisconsin
, is hoping for a respite from her overcomplicated work and personal life when she accepts a week-long consulting gig at another Wisconsin historic site.
Rock Island State Park
's rustic charm is just the thing Chloe needs to unwind. But, when she discovers a dead body on her first night on the island, it's clear that Chloe has more to worry about than just preparing a furnishing plan for the site's historic lighthouse.
The Light Keeper's Legacy
is a pretty standard cozy mystery, plot wise. Chloe is an interesting character and not just because she's a museum professional. She has some weird sixth sense, a "gift of perception," that guides her in both her museum interpretation and in her sleuthing (though I will say that I wasn't all that keen on this part of her character, except in one very specific case, which I can't explain without including spoilers). Beyond that, Chloe has also got what seems to be a complex backstory that keeps her from being completely sure of herself.
The best part of
The Light Keeper's Legacy
was Ernst's use of the split narrative. I enjoyed the juxtaposition between Chloe's 1980s and time period she's trying to research (mid-late 19th century). I found the historical sections and the historical characters to be some of the most compelling parts of the novel.
The Light Keeper's Legacy
is the third book in Kathleen Ernst's
Chloe Ellefson Mysteries
(after
Old World Murder
and
The Heirloom Murders
). I liked
The Light Keeper's Legacy
enough that I got
Old World Murder
from the library.
The Light Keeper's Legacy
will be released in October 2012.
disclosure: I received a review copy of The Light Keeper's Legacy from Midnight Ink Books via NetGalley.