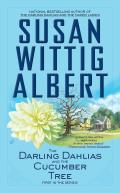 The Darling Dahlias and the Cucumber Tree
by Susan Wittig Albert
Crime-solving highjinks set against the backdrop of Depression-era south.
The first in a series of cozy mysteries set in the early 1930s. The sleuths are members of Darling, Alabama's garden club.
The Darling Dahlias and the Cucumber Tree
features murder, bank fraud, a prison break, a haunting, twelve garden club ladies, and two
cucumber trees
. That's quite a bit to pack into one novel, but Albert juggles everything admirably. I enjoyed
The Darling Dahlias and the Cucumber Tree
and would be interested in continuing on with the series.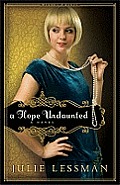 A Hope Undaunted by Julie Lessman
Never judge a book by its cover.
If I had realized that
A Hope Undaunted
was an inspirational romance (i.e. Christian romantic fiction) I would not have checked it out. I did read it the entire novel because I needed to find out whether the feisty young women's rights advocate would be convinced of the importance of unquestioningly obeying her father and (future) husband. I found it overbearing.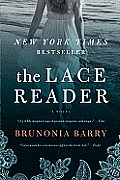 The Lace Reader by Brunonia Barry
Self-published novel turned
NY Times
bestseller.
Set primarily in Salem, Massachusetts, and its environs,
The Lace Reader
examines Salem's legacy in an interesting way at a time when witchcraft good PR not a crime. Its unreliable narrator is a professed liar, but it is unclear just how much of her story is fiction for the majority of the novel. Compelling reading.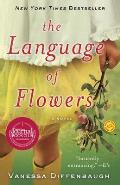 The Language of Flowers by Vanessa Diffenbaugh
A contemporary fictional meditation on the Victorian language of flowers.
I've been intrigued with the language of flowers since I first learned about it years ago. The problem with floriography is that the meanings of the flowers vary from source to source and the sentiments attributed to a particular bloom can be contradictory. One of the things that I liked most about Diffenbaugh's novel,
The Language of Flowers
, was the author's inclusion as an addendum of the floriography dictionary developed by her protagonist (and another character) during the course of the novel. The novel itself wasn't quite what I expected it (oh how the protagonist drove me to distraction at times with her inability to trust), but I appreciated it nonetheless.