Sync
's offerings this week (Thursday, June 26 through Wednesday, July 2, 2014) are: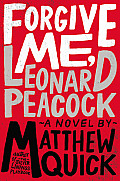 In addition to the P-38, there are four gifts, one for each of my friends. I want to say good-bye to them properly. I want to give them each something to remember me by. To let them know I really cared about them and I'm sorry I couldn't be more than I was — that I couldn't stick around — and that what's going to happen today isn't their fault.
Today is Leonard Peacock's birthday. It is also the day he hides a gun in his backpack. Because today is the day he will kill his former best friend, and then himself, with his grandfather's P-38 pistol.
But first he must say good-bye to the four people who matter most to him: his Humphrey Bogart — obsessed next-door neighbor, Walt; his classmate Baback, a violin virtuoso; Lauren, the Christian homeschooler he has a crush on; and Herr Silverman, who teaches the high school's class on the Holocaust. Speaking to each in turn, Leonard slowly reveals his secrets as the hours tick by and the moment of truth approaches.
In this riveting book, acclaimed author Matthew Quick unflinchingly examines the impossible choices that must be made — and the light in us all that never goes out.
The edition of
Forgive Me, Leonard Peacock
offered by Sync is narrated by Noah Galvin, courtesy of Hachette Audio.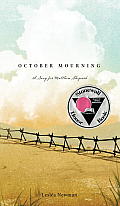 On the night of October 6, 1998, a gay twenty-one-year-old college student named Matthew Shepard was lured from a Wyoming bar by two young men, savagely beaten, tied to a remote fence, and left to die. Gay Awareness Week was beginning at the University of Wyoming, and the keynote speaker was Lesléa Newman, discussing her book Heather Has Two Mommies. Shaken, the author addressed the large audience that gathered, but she remained haunted by Matthew's murder. October Mourning, a novel in verse, is her deeply felt response to the events of that tragic day. Using her poetic imagination, the author creates fictitious monologues from various points of view, including the fence Matthew was tied to, the stars that watched over him, the deer that kept him company, and Matthew himself. More than a decade later, this stunning cycle of sixty-eight poems serves as an illumination for readers too young to remember, and as a powerful, enduring tribute to Matthew Shepard's life.
The edition of
October Mourning
offered by Sync is narrated by Emily Beresford, Luke Daniels, Tom Parks, Nick Podehl, Kate Rudd, Christina Traister; courtesy of Brilliance Audio.
Go
here
to get this week's downloads.
Note:
these books don't expire like the e-audiobooks you get from the library. So, be sure to download the books even if you don't think you'll get around to listening to them right away.
More information about
Sync
and this year's schedule of offerings is available in
this post
.