Sync
's offerings this week (Thursday, June 19 through Wednesday, June 25, 2014) are: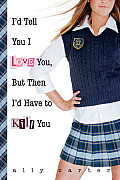 Cammie Morgan is a student at the Gallagher Academy for Exceptional Young Women, a fairly typical all-girls school—that is, if every school taught advanced martial arts in PE and the latest in chemical warfare in science, and students received extra credit for breaking CIA codes in computer class. The Gallagher Academy might claim to be a school for geniuses but its really a school for spies.
Even though Cammie is fluent in fourteen languages and capable of killing a man in seven different ways, she has no idea what to do when she meets an ordinary boy who thinks shes an ordinary girl. Sure, she can tap his phone, hack into his computer, or track him through town with the skill of a real "pavement artist"—but can she maneuver a relationship with someone who can never know the truth about her?
Cammie Morgan may be an elite spy-in-training, but in her sophomore year, shes on her most dangerous mission—falling in love.
The edition of
I'd Tell You I Love You, but then I'd Have to Kill You
offered by Sync is narrated by Renée Raudman, courtesy of Brilliance Audio.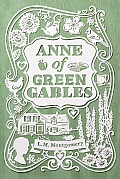 As soon as Anne Shirley arrived at the snug, white farmhouse called Green Gables, she knew she wanted to stay forever... but would the Cuthberts send her back to the orphanage? Anne knows she's not what they expected — a skinny girl with decidedly red hair and a temper to match. If only she could convince them to let her stay, she'd try very hard not to keep rushing headlong into scrapes or blurt out the very first thing she had to say. Anne was not like anybody else, everyone at Green Gables agreed; she was special — a girl with an enormous imagination. This orphan girl dreamed of the day when she could call herself Anne of Green Gables.
The version
Anne of Green Gables
offered by Sync is narrated by Colleen Winton, courtesy of Post Hypnotic Press.
Go
here
to get this week's downloads.
Note:
these books don't expire like the e-audiobooks you get from the library. So, be sure to download the books even if you don't think you'll get around to listening to them right away.
More information about
Sync
and this year's schedule of offerings is available in
this post
.