Sync
's offerings this week (Thursday, June 5 through Wednesday, June 11, 2014) are: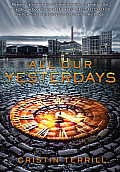 Imprisoned in the heart of a secret military base, Em has nothing except the voice of the boy in the cell next door and the list of instructions she finds taped inside the drain.
Only Em can complete the final instruction. Shes tried everything to prevent the creation of a time machine that will tear the world apart. She holds the proof: a list she has never seen before, written in her own hand. Each failed attempt in the past has led her to the same terrible present—imprisoned and tortured by a sadistic man called the doctor while war rages outside.
Marina has loved her best friend James since the day he moved next door when they were children. A gorgeous, introverted science prodigy from one of Americas most famous families, James finally seems to be seeing Marina in a new way, too. But on one disastrous night, Jamess life crumbles apart, and with it, Marinas hopes for their future. Now someone is trying to kill him. Marina will protect James, no matter what. Even if it means opening her eyes to a truth so terrible that she may not survive it. At least not as the girl she once was.
All Our Yesterdays is a wrenching, brilliantly plotted story of fierce love, unthinkable sacrifice, and the infinite implications of our every choice.
The edition of
All Our Yesterdays
offered by Sync is narrated by Meredith Mitchell, courtesy of Tantor Audio.
In this striking tragedy of political conflict, Shakespeare turns to the ancient Roman world and to the famous assassination of Julius Caesar by his republican opponents. The play is one of tumultuous rivalry, of prophetic warnings–"Beware the ides of March"–and of moving public oratory, "Friends, Romans, countrymen!" Ironies abound and most of all for Brutus, whose fate it is to learn that his idealistic motives for joining the conspiracy against a would-be dictator are not enough to sustain the movement once Caesar is dead.
The version
Julius Caesar
(aka Oedipus the King) offered by Sync is performed by Performed by Richard Dreyfuss, JoBeth Williams, Stacy Keach, Kelsey Grammer, and a full cast; courtesy of L.A. Theatre Works.
Go
here
to get this week's downloads.
Note:
these books don't expire like the e-audiobooks you get from the library. So, be sure to download the books even if you don't think you'll get around to listening to them right away.
More information about
Sync
and this year's schedule of offerings is available in
this post
.