The Witch's Daughter by Paula Brackston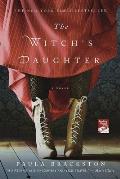 I've had
The Witch's Daughter
loaded on my pocket electronic device for the last little while. I've listened to it while commuting and shoveling snow, and most recently while suffering from the flu and not having the energy to do much anything else.
The Witch's Daughter
is the story of a tenant farmer 17th century England who essentially becomes a witch to escape persecution for witchcraft (as should be obvious from the book's title, Bess' mother hanged) and then spends the next 400 years running from the warlock who aided her transformation (and who wants to claim her for himself). The book is set in 2007, but it includes long flashbacks to various periods in the titular character's life: the plague-ridden early 1600s, in which Bess should have lived out her entire life, Victorian London (complete with Jack the Ripper), and Flanders during World War I. The book long at 400+ pages or 13+ hours, but it didn't drag for me.
My pet peeve about the story is that Bess, each time she reinvents herself, uses some form of her actual name (and she maintains her appearance complete with her distinctive white widow's streak). Of course her nemesis is going to find her again and again when she does such a poor job of hiding. The fact that Gideon (the warlock) disguises himself so well really highlights this failing of Bess'.