The Courtier's Secret by Donna Russo Morin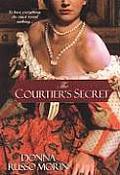 17-year-old Jeanne Du Bois was sent off to a convent seven years ago. When the sisters tire of her insolence, Jeanne is returned to court (Louis XIV's at Versailles). Stifled by the restrictions of life as a female courtier, Jeanne spends what free time she has eavesdropping on the palace's school room and sneaking off to fencing lessons with her uncle.
Jeanne's domineering father wants nothing more than to make her someone else's problem (and to make some money in the process). Evading an arranged marriage seems to be Jeanne's biggest problem. That is, until she accidentally saves the life of one of the King's Guard while dressed in her fencing uniform. When Jeanne is mistaken for a man and invited to join the Musketeers, Jean-Luc (her alter-ego) is born. Cue: endless costume changes.
I would not recommend this books to fans of serious historical fiction because I suspect that they'd be disappointed in it. I can see
The Courtier's Secret
being a gateway book for YA readers wanting to get into more series historical fiction. In fact
The Courtier's Secret
reads more like a YA novel than it does a novel written for adults. It's not just the age of the protagonist, but how Jeanne was written as well as the kind of story
The Courtier's Secret
is (action, adventure, romance with a young misunderstood protagonist and a mostly happily-ever-after ending) and the fact that the author seemed to play fast and loose with historical fact.
I'd class
The Courtier's Secret
as a nice, fluffy historical. A bodice-ripper without any real bodice-ripping. I did read
The Courtier's Secret
all the way through in one sitting, but found it unsatisfying and ultimately forgettable. The things that were included to add depth to the story were either overshadowed by the action or horribly contrived. And, while everything turns out fine for Jeanne, others go unpunished or unsaved.