The reason I've been relatively quiet lately is that I'm knee-deep in an exhausting move (work this time; all the library and archival collections to a new building). Sorting and packing and organizing. It really does seems like a never-ending project. Today's installment involved three trucks and eleven guys in blue t-shirts. I'm worn out just from running around keeping them all on task.
I'm trying not to have a repeat of my
March
/
April
move stress-induced silence, but I thought an explanation might be in order.
The only other news is
my big giveaway
. Please enter. And, tell your friends - if they enter (and say that they heard about the giveaway from you), you'll get an extra entry. I've enjoyed looking through the entries and have appreciated all the comments and feedback I've been receiving on the blog.
Now onto our continuing coverage of
Sync
's summer free audiobook extravaganza...
The offerings this week are
Ashes, Ashes by Jo Treggiari
and
Rescue: Stories of Survival From Land and Sea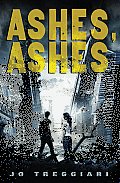 Epidemics, floods, droughts--for sixteen-year-old Lucy, the end of the world came and went, taking 99% of the population with it. As the weather continues to rage out of control, and Sweepers clean the streets of plague victims, Lucy survives alone in the wilds of Central Park. But when she's rescued from a pack of hunting dogs by a mysterious boy named Aidan, she reluctantly realizes she can't continue on her own. She joins his band of survivors, yet, a new danger awaits her: the Sweepers are looking for her. There's something special about Lucy, and they will stop at nothing to have her.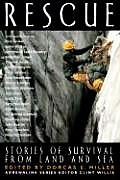 Following the successes of Epic, High, and Rough Water, the latest addition to the Adrenaline series presents the most gripping rescue narratives. Rescue includes Doug Scott's account of saving himself by crawling off Pakistan's Ogre with two broken legs, and Spike Walker's story of the race to recover a king crab fisherman from the Bering Sea in midwinter. The book also includes an account of trying to rescue two canoeists battling hypothermia on a storm-tossed lake; Alison Osius's tale of two teenagers lost in the Great Gulf Wilderness of New Hampshire; and a missionary doctor and his dog team being blown out to sea on an iceberg off the coast of Labrador.
Note:
these books don't expire like the e-audiobooks you get from the library. So, be sure to download the books even if you don't think you'll get around to listening to them right away.
More information about
Sync
is available in
this post
.