Assassin's Apprentice by Robin Hobb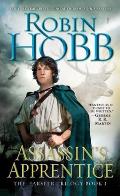 Fitz is the bastard son of the Six Duchies' king-in-waiting, Prince Chivalry, who abdicates the throne when he learns of Fitz's existence. Fitz is left in the care of Chivalry's gamekeeper until King Shrewd decides that Fitz must live in the keep and be trained. But Fitz is not given an education appropriate to a prince, he's apprenticed to Chade, King Shrewd's assassin. Fitz must put his talents, learned and innate, to use for the king because royal bastards are only kept alive as long as they are useful.
Assassin's Apprentice
is the first book in the
Farseer Trilogy
(as well as being Hobb's debut novel). I'd weeded it (and its two mates) in my pre-move book destash. Russell insisted that I keep the books, though, because I had the entire set (and often it's difficult to acquire the later books in a series). I'm happy that I listened to him. I finished
Assassin's Apprentice
last night and have already started its sequel,
Royal Assassin
.
One of things I like about the world Hobb has created for the
Farseer Trilogy
is the royal family's custom of naming children after the virtues the parents hoped the child would embody. That added another level to the story for me. While reading I was constantly taking stock of the royals and to see to what extent each was ruled by his/her name.
More after I've finished the series.