So, I went to
the Strand
today. It was just a quick visit, which is probably just as well because I could spend lots of time (and money) there.
I only bought two books. I picked these two because (1) they caught my eye, (2) I hadn't heard of them before, and (3) they were on sale. I may have also bought a
tote bag
and
coffee mug
, but those are destined to be gifts (and this neat
bookmark
for Russell; he loves it).
The Dream of Perpetual Motion by Dexter Palmer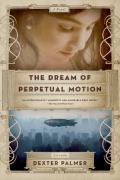 Imprisoned for life aboard a zeppelin that floats high above a fantastic metropolis, greeting-card writer Harold Winslow pens his memoirs. His only companions are the disembodied voice of Miranda Taligent, the only woman he has ever loved, and the cryogenically frozen body of her father, Prospero, the genius and industrial magnate who drove her insane. As Harold heads toward a last desperate confrontation with Prospero to save Mirandas life, he finds himself an unwitting participant in the creation of the greatest invention of them all: the perpetual motion machine. Beautifully written, stunningly imagined, and wickedly funny, The Dream of Perpetual Motion is a heartfelt meditation on the place of love in a world dominated by technology.
The Mysterious Benedict Society by Trenton Lee Stewart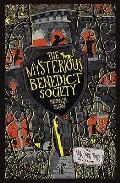 Dozens of children respond to this peculiar ad in the newspaper and are then put through a series of mind-bending tests, which readers take along with them. Only four children-two boys and two girls-succeed. Their challenge: to go on a secret mission that only the most intelligent and inventive children could complete. To accomplish it they will have to go undercover at the Learning Institute for the Very Enlightened, where the only rule is that there are no rules. But what they'll find in the hidden underground tunnels of the school is more than your average school supplies. So, if you're gifted, creative, or happen to know Morse Code, they could probably use your help.