Last week I went into New York City for the day. I wanted something to read on the train and I didn't want to bring my Nook so I decided to grab a book from one of our weeded boxes. I figured that if I brought one that was already registered on
BookCrossing
, I could
wild-release
it on the train when I disembarked. Getting rid of said book would also help offset any
Strand purchases
I might make. That was the plan.
The book I grabbed was
Paris to the Moon
by Adam Gopnik.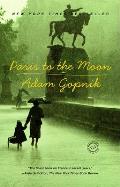 Paris to the Moon
isn't a novel (my literary drug of choice). It's a group of essays that cobbled together serve as a memoir of the author's time living in Paris with his young family (interesting, but not the most compelling of all subjects). Because my copy is a
BookCrossing
book, I can look at
its history
and note that I've had it in my possession since February 2006. I'd had the book for over 5 years and hadn't once picked it up to read. It seems perfectly reasonable for me to banish
Paris to the Moon
from my library.
I started reading
Paris to the Moon
on the train. When I arrived in the city, I elected not to leave it on the train so that I'd have could read it on my end-of-the-day commute (why did I do this if I already planned to go to the Strand at lunchtime? obviously I was going to buy books at the Strand,
I'd said so
). I didn't read
Paris to the Moon
on my way home. I read one of my new acquisitions (
The Dream of Perpetual Motion
by Dexter Palmer). Yet I couldn't bring myself to leave
Paris to the Moon
on the train when I arrived at my destination.
Why? Well, once I actually started reading the book I remembered why I wanted to read it in the first place. There's the title, which is appealing in and of itself and becomes more so when its origin is explained. Gopnik is a great writer (he's a longtime contributor to
The New Yorker
), his prose is both sensitive and atmospheric. Oh, and I love Paris. So, even though I didn't want to read
Paris to the Moon
more than my bright, shiny, new book, I couldn't bear to let it go without reading it. I'm not nearly at good at letting go of things as I like to think I am.
1
I lost this battle to the book hoarder.
Paris to the Moon
is now sitting on a box that we haven't managed to unpack yet. I should probably migrate it to one of my bookshelves.
Actually I know that this is not my strong suit. It's much easier if I don't put myself in a position where I can have second thoughts. When we were trying to downsize before the move, having Russell take out the stuff we'd decided to get rid of while I was off at work made things so much easier for me.