ETA: Happy International Steampunk Day!
1
This particular title isn't due out until October, but I wanted to get something out while I still had my copy as reference (my Adobe Digital Editions tells me that my copy is due to expire in less than 24 hours). I'll likely post about
Steampunk!
again closer to its actual release date, but here's something to whet your appetite.
Steampunk! An Anthology of Fantastically Rich and Strange Stories
edited by Kelly Link and Gavin Grant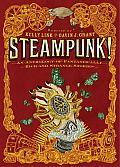 Firmly rooted in Victorian London, steampunk has often been a bit too Anglo- and Eurocentric
2
. One of the things that's so refreshing about
Steampunk!
is that its diversity of setting, story, character, format. Something that was achieved by asking the anthology's contributors, whose ranks include both big names and virtual unknowns, for "stories that explored and expanded their own ideas of what steampunk could be" (8).
I read
Steampunk!
over the course of a month or six weeks. While I know that anthologies aren't meant to serve as a unified whole, I usually prefer not to read them straight through. I do almost always read the stories in the order they are presented, but I like to be able to sit on one before I start the next. I quite enjoyed being able to read
Steampunk!
leisurely.
I would like to say that each of the works collected in
Steampunk!
was absolutely wonderful, but I can't. Elizabeth Knox's "Gethsemane" caused me vexation; I didn't "get it" at all. I think I was too tired when I tried to read it and it's one of the longest stories in the anthology so I decided to skip it, fully intending to revisit it at some point before posting my review (that is until I realized that my e-galley was about to expire). Other than that (and please do note that the fault might very well be my own), the anthology was full of win.
3
At the moment my favorite story of the bunch is Dylan Horrocks' "Steam Girl." I didn't expect to prefer this one because it is (at least in my opinion) one of the least steampunk contributions to
Steampunk!
3
(the titular character's alter ego exists in a imaginary? steampunk world, but she and the story's protagonist are firmly planted in the realistic here-and-now). "Steam Girl" is, however, perfectly crafted.
I should also note that
Steampunk!
is geared toward the young adult market unlike the steampunk anthologies of which I am familiar.
Steampunk!
's table of contents, with links to extracts when available (my favorites are starred):
If you've clicked on nearly any of the table-of-contents links, you'll have realized that the book has a great website. If you haven't, visit
StrangeAndFascinating.com
to learn more about the book.
Steampunk!
is going on my Amazon wishlist. I'd love a copy, but I'm ornery and I won't buy it on principle. If I'd gotten a paper rather than digital advanced reader copy, I would have been able to keep it as long as I wanted. I'm really not supposed to be buying books and I'm not about to break my rules for a book I would otherwise have gotten for free.
Apparently June 14, H.G. Wells' birthday (except it's not actually his birthday), has been dubbed Int'l Steampunk Day. A bit more info here and here.
See Multiculturalism for Steampunk, especially the 1 April 2011 post
I can't bring myself to edit out this colloquialism (internetism?) even though it's not something I'd use in my everyday speech.
disclosure: I received a review copy of Steampunk! from Candlewick Press via NetGalley. See e-galley snark above. Like I said, ornery.