Mothers and Daughters by Rae Meadows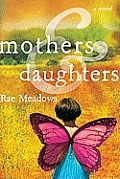 Examining the choices made by a line of women,
Mothers and Daughters
charts the secret history of one family. The story is told from three different perspectives, focused on the present day and the turn of the century.
Sam is a ceramic artist and new mother who is struggling with the idea of going back to work and worry about how motherhood will affect her creative output. Her mother, Iris, has come to terms with the fact that she's dying of cancer, but has yet to pass that acquiescence on to her children. 100+ years earlier, eleven-year-old Violet is running wild on the streets of New York City, her mother unable to care for her.
Mothers and Daughters
deals with two meaty subjects: motherhood (and the sacrifices inherent therein) and the
orphan train movement
. But, while the novel was well-structured, it was too short to do justice to each of its three protagonists. On reaching the novel's final page, I was unsatisfied in spite of the fitting final chapter.
Mothers and Daughters
lacked the depth I expected from a novel exploring these themes.
Iris in particular was given short shrift. For me, Iris was no more substantial than Lilibeth (Violet's mother) despite being one of the novel's protagonists. On reflection, I think it might have been better for the novel as a whole to let Iris remain a secondary character and have her story revealed by her mother and daughter.
Violet and Sam are much more fully-drawn that Iris (though in my opinion Iris is a more interesting character than Sam). Violet is definitely the star of the novel. Her story is the most compelling.
While readers learn about the lives of Violet and Iris, Sam really doesn't. The box of mementos she receives from Iris via her brother is enough to show Sam that there is much that she doesn't know about her mother and grandmother, but we don't know how much she'll ever be able to learn about them.
Mothers and Daughters
is not a bad novel, or a poorly written one. It just could have been so much better.
I'm not all that keen on the cover art for
Mothers and Daughters
. It's not bad, but it doesn't match the novel. Its technicolor pop seems out of character with the story and the butterfly wings on the child are whimsical (I suppose they are supposed to represent the innocence and imagination of childhood) where the novel is not. The advanced reader copy I received from the publisher had the cover pictured above, but was encased as pictured to the left. The wooden-box design is a direct reference to the box that Sam receives filled with Iris' mementos. I can't help but think that someone at the publisher must have realized too late that the cover art was a bit off.
disclosure: As should be obvious from the above, I received an advanced reader copy of Mothers and Daughters from Henry Holt.