So far I've received slightly more books than I gave this year.
(Russell, it seems, did not receive any books this year)
What I received -

Brave New Knits: 26 Projects and Personalities from the Knitting Blogosphere
by Julie Turjoman
from a swap partner (same swap mentioned
here
)
Brave New Knits is the first book to celebrate the convergence of traditional hand-knitting and modern technology. The Internet has made it possible for the knitting community to connect through photos, pattern-sharing, and blogs that document the knitting projects and passions of dozens of designers and enthusiasts. With a Foreword written by Jessica Marshall Forbes, co-founder of Ravelry.com, Brave New Knits includes 26 must-have garment and accessory patterns, all gorgeously photographed by knitting celebrity Jared Flood of Brooklyn Tweed. Contributors range from established designers like Norah Gaughan, Wendy Bernard, Anne Hanson, and knitgrrl Shannon Okey, to rising stars such as Melissa Wehrle, Connie Chang Chinchio, and Hilary Smith Callis. In-depth interviews with the designers reveal their design philosophy and passions. From shapely sweaters and delicate shawls to fingerless gloves and stylish hats, each of the knitted designs features detailed directions and charts to inspire both the beginner and experienced knitter.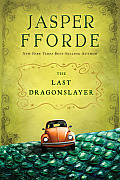 The Last Dragonslayer
by Jasper Fforde
from Santa (ie. me (and Russell))
From the author of the Thursday Next mysteries comes this off-beat fantasy, the first in a new series for young readers. In the good old days, magic was powerful and unregulated by government, and sorcerers were highly respected. Then the magic started to fade away. Fifteen-year-old Jennifer Strange runs Kazam, a magic employment agency. Work is hard to come by, and unexciting: These days, sorcerers find work unblocking drains, and even magic carpets have been reduced to pizza delivery. So it's a surprise when the visions start. Not only do they predict the death of the last dragon at the hands of a dragonslayer, they also point to Jennifer. Something is coming. Something known as — Big Magic.

One + One: Scarves, Shawls & Shrugs: 25 Projects from Just Two Skeins
by Iris Schreier
from my mom and dad
One + One = Two skeins! That's all it takes to make any of these 25 breathtaking knitted accessories. Scarves, Shawls & Shrugs is the first in a new series by renowned designer Iris Schreier that showcases the many possibilities of working with just two skeins of yarn. Mixing yarn types, weights, and colors, she presents a dazzling array of stylish and sophisticated wraps. Schreier created about half the projects herself, while other prominent designers provided the rest.
The projects range from easy to unique and offer new ideas for blending yarns and creating pieces with high appeal, beautiful drape, and practical functionality.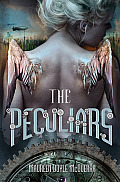 The Peculiars
by Maureen Doyle McQuerry
from my mom and dad
On her 18th birthday, Lena Mattacascar decides to search for her father, who disappeared into the northern wilderness of Scree when Lena was young. Scree is inhabited by Peculiars, people whose unusual characteristics make them unacceptable to modern society. Lena wonders if her father is the source of her own extraordinary characteristics and if she, too, is Peculiar. On the train she meets a young librarian, Jimson Quiggley, who is traveling to a town on the edge of Scree to work in the home and library of the inventor Mr. Beasley. The train is stopped by men being chased by the handsome young marshal Thomas Saltre. When Saltre learns who Lena's father is, he convinces her to spy on Mr. Beasley and the strange folk who disappear into his home, Zephyr House. A daring escape in an aerocopter leads Lena into the wilds of Scree to confront her deepest fears.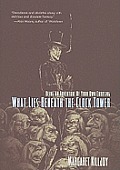 What Lies Beneath the Clock Tower
by Margaret Killjoy
a stocking stuffer (courtesy of my mom)
Descend into the depths of the undercity and embroil yourself in the political struggles of colonialist gnomes and indigenous goblins. Fly in air balloons, drink mysterious and pleasant cocktails, smoke opium with the dregs of gnomish society. Or dream and speak of liberation for all the races. Fall in love and abscond into the caverns. It's up to you, because this is an adventure of your own choosing.
What I/we gave -

The Tolkien Years of the Brothers Hildebrandt
by Greg Hildebrandt Jr.
for my dad, a Tolkien-lover and frequent recipient of Hildebrant calendars
The million-selling Tolkien calendars created during the '70s by renowned fantasy artists Greg and Tim Hildebrandt are now considered artistic masterpieces, a defining visual interpretation of The Hobbit and The Lord of the Rings. The Tolkien Years of the Brothers Hildebrandt collects the complete treasury of their fantastic artwork, plus the untold story behind the creation of those cherished illustrations. Greg Hildebrandt, Jr. provides a fascinating behind-the-scenes look into the defining work of his father and uncle, now updated and expanded with all-new pages of commentary and exclusive, never-before-printed art!
The Seven Markets
(see
my review
)
by David Hoffman
for my dad (as well as a few others who may or may not have received their gifts yet)
Once in every century, for three days only, the Market comes. Her whole life, Ellie MacReady has delighted at her papa's stories of the fantastical Market. The creatures that walk its streets. The wonders waiting in every shopkeeper's window. The exotic foods and unearthly scents which tempt travelers on every corner. But in all his stories, her papa never mentioned the irresistible Prince, or the perils which await young girls who wander away to explore the Market on their own.