Stories for Nighttime and Some for the Day by Ben Loory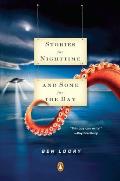 Stories for Nighttime and Some for the Day
is a strangely compelling little book. Contained within it are thirty-nine
short
short stories (one is only three sentences long) and a longer fortieth story, grudgingly appended by the author.
1
Usually with short story collections I want to read the stories one at a time, to savor them. I couldn't do that with
Stories for Nighttime and Some for the Day
though. Loory's stories--the publisher calls them contemporary fables and I think that's apt--are compulsively readable. They are poignant and unsettling, simple and profound. And I wanted to eat them all up!
My favorites stories
2
follow a tea-drinking, spoon-collecting octopus and an unappreciated, intellectual television. Others feature a duck who falls in love with a rock, companionable cadavers, and a menacing hat. It's a strange hodgepodge that's at once a unified whole.
In his acknowledgments, Loory mentions that the stories in
Stories for Nighttime and Some for the Day
were inspired by a horror writing class. There is some horror here, but it's subtle. Subtle and thought-provoking. Overall I think the collection leans more toward humor--wry humor--and hopefulness.
I want to reread
Stories for Nighttime and Some for the Day
, to really let myself reflect on each of the stories in turn. Loory has a lot to tell us and he's only just started.
Get a taste -
One of the collections' stories, "
The Girl in the Storm
," posted in its entirety on the author's website.
Note introducing the appendix: "The following is a longer story not part of the same project included here at the publisher's request" (193).
"The Octopus" (28-36) and "The TV and Winston Churchill" (59-63).
disclosure: I received a review copy of Stories for Nighttime and Some for the Day from Penguin via NetGalley.