I haven't done a follow-friday post in a while, but I liked this week's question.
Talk about the book that most changed or influenced your life (was it a book that turned you from an average to avid reader, did it help you deal with a particularly difficult situation, does it bring you comfort every time you read it?).
I can't say that this book
changed my life
, but it is one that helped me through a tough time. I feel a bit silly posting about this particular book in this particular context because the author's work falls solidly in the chick-lit category. I really have nothing against chick lit, but it does have a justifiable reputation for being frivolous.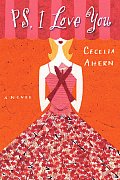 PS, I love you
by Cecilia Ahern is a wonderful, uplifting, and fun story about love and loss and grief and learning to cope. I bought it after the unexpected death of my cousin died planning to send it to his wife. Of course I decided to read it before sending it along and I have to say that it brought me great comfort. After reading it, I felt the desire to buy another copy to send to her so I could keep the original copy for myself. Since then I decided that it should be shared rather than hoarded. I've passed along my copy and bought a few others (from the discount bookstore) to share via
BookCrossing
.
~

If you are visiting this blog for the first time,
welcome!
And be sure to check out my
giveaway
(see
this post
or the sidebar to the right).
This is Karen. I'm a librarian and archivist and I've been writing this blog since 2006. Some of my favorite books are
All We Know of Love
(schneider),
The Book of Laughter and Forgetting
(kundera),
The God of Small Things
(roy),
The Handmaid's Tale
(atwood),
Pride and Prejudice
(austen),
The Storyteller
(vargas llosa), and
Zahrah the Windseeker
(okorafor-mbachu).