Pandemonium by Lauren Oliver
series: Delirium Trilogy, book 2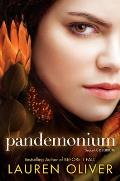 Pandemonium
is the sequel to Lauren Oliver's
Delirium
and the second in an expected trilogy. I was disappointed by
Delirium
when I read it last year (see
post
), but that didn't keep me from feeling like I needed to reread it before I sent my copy (along with a bunch of other books) off to live with Russell's voracious-reader sister. I hadn't been planning on continuing with the series, but given the fact that I was rereading
Delirium
, I decided to put myself on the library waiting list
Pandemonium
.
And, I'm glad that I did because I liked
Pandemonium
better than
Delirium
. Again in
Pandemonium
I was unhappy with how the romance played out.
1
But, Oliver gives us a lot more information about the society in this second installment. There's more menace and suffering and because of that
Pandemonium
works much better as a dystopian novel.
This is vague and unspecific, but it's still a bit of a spoiler so continue with the footnotes at your own risk.


SPOILER -

And we have a love triangle to look forward to in book three, ugh.