This is a follow-up to
Sunday's post
. The focus is on another dystopian YA novel that I got during the Borders liquidation.
One of the categories for my
2011 take-a-chance reading challenge
is "loved one's choice." Since it was one of my favorite categories, I asked three different people (Russell and my good friends Jessica and Nancy) to provide me with reading assignments. Jessica gave me a choice of four options,
1
one of which was
Delirium
by Lauren Oliver. I fully intend to read all four of her selections (though likely not all within 2011), but since
Delirium
is the first one I've gotten to, it's the one I'll be counting for the challenge.
Delirium by Lauren Oliver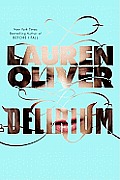 Magdalena Haloway has grown up in a world that considers
amor deliria nervosa
, or more specifically how individuals infected with the disease act and react, the biggest threat to society. There is a cure, but it's risky to have the procedure performed too early. Boys and girls are segregated to reduce the likelihood of disease contraction in youth. As individuals near their eighteen birthday and cure date, they undergo an evaluation and receive a list of approved matches. Lena is counting the days until her procedure, looking forward to the safety it will provide. That is... until she meets Alex.
Like
Bumped
(see
post
),
Delirium
disappointed me (and it's also the first in a planned series).
I liked the concept (though I will admit that it was a bit too much like Scott Westerfeld's
Uglies
) and Oliver's writing, but the story itself fell flat for me. It was really a combination of things, not all of which would normally put me off. The pace is very slow. Lena's best friend Hana is much more interesting than she is. Lena and Alex fall in love far too quickly and with little chemistry. What bothered me the most, though, was the lack of observable menace and oppression in the society. Yes, we are told that there are strictly-enforced curfews, that it's really difficult to cross the border, that people who fall in love are punished and killed, but we see precious little of that. It's far too easy for the characters to get away with everything that they do and because of that the society in which they were supposed to be living seemed inauthentic to me.
Because there are two more books planned for the series, I'm fairly certain that things at the end of
Delirium
are not necessarily what they seem. I suspect that the series will get better (in general, as the larger story is played out, not in reference to the aforementioned ending), but I don't plan on reading the other books.
You can see the list of Jessica's selections in this post.