An explanation of my recent blog silence is forthcoming,
1
but I didn't want to skip my usual post about books I received for my birthday.
This year, I received only one book (so far). It's from my sister and I'm fairly certain that she chose it specifically because of the orange color on the cover. Seriously. All the other items I received from her were orange
2
so I think she decided to go with orange as a theme. Apparently there are two more items on their way so we'll see if I'm right. I could ask, but where's the fun in that.
In any case, back to the book. This particular title was on my wishlist. I'd heard the author interviewed on NPR and was intrigued.
Marrying Anita: A Quest for Love in the New India by Anita Jain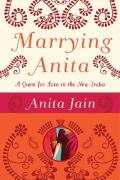 Is arranged marriage any worse than Craigslist? One smart and feisty womans year in India looking for a husband the old-fashioned way reveals a rapidly changing culture and a whole host of ideas about the best way to find a mate.
Anita Jain was fed up with the New York singles scene. After three years of frustration and awkward dates, and under constant pressure from her Indian parents to find someone, she started to wonder: was looking for a husband in a bar any less barbaric than traditional arranged marriage? After all this effort, there had to be something easier.
After announcing in a much-discussed New York magazine article her intention to try arranged marriage, Jain moves back to India—the impoverished, backward land her parents fled—to find a husband. At age thirty-two, and well past the cultural deadline for starting a family, Jain subjects herself to a whole new onslaught of expectations. Marrying Anita is an account of romantic chance encounters, nosy relatives, and dozens of potential husbands. Will she find a suitable man? Will he please her parents, aunts, uncles, and cousins? Is the new urban Indian culture in which shes searching really all that different from America?
With disarming candor, Jain tells her own romantic story even as it unfolds before her, and in the process sheds new light on a country modernizing at breakneck speed. Marrying Anita is a refreshingly honest look at our own desires and the modern search for the perfect mate.
Also, I'm so excited about one of my non-book gifts that I simply must share. I got one of Etsy seller
sewtara
's
"caffeinating, please wait" sleeves
. I've been wanting one of these ever since I first saw the listing (when my friend Jessica added it to her Etsy favorites list). My sister got
sewtara
to make me one with an orange load bar and lining. love!
Nothing substantive; things have just been very busy here
I'm including one of these--a non book gift--below (or above, in this case) because I just can't help myself