I'm not particularly excited about the
Sync
offerings this week, but I do want to get back into doing this these reminder posts.
Sync
's offerings this week (Thursday, July 12 through Wednesday, July 18, 2012) are: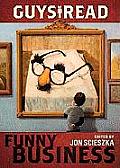 Here it is! Volume 1 [of the Guys Read Library of Great Reading]. A lot of something funny for everyone. 10 original short stories by Mac Barnett, Eoin Colfer, Christopher Paul Curtis, Kate DiCamillo & Jon Scieszka, Paul Feig, Jack Gantos, Jeff Kinney, David Lubar, Adam Rex, and David Yoo.
You should be able to find something you like in here. This volume is guaranteed to contain an intro joke, a sneaky friend, a super-villian, an origin story, an idiot friend, a cranky author, a homicidal turkey, brother torture, a crazy grandpa, parents who give their kid's bedroom to a biker, self surgery using rusty pliers, and lots of laughs.
"The Celebrated Jumping Frog of Calaveras County" is a wild yarn involving a case of mistaken identity, a gambler who'd bet on anything, and a very unusual frog named Daniel Webster. First published in
The Saturday Press
in 1865, the tale was immensely popular, and in 1867 an expanded version was published with 26 additional short stories, told as only Mark Twain could tell them.
Note:
these books don't expire like the e-audiobooks you get from the library. So, be sure to download the books even if you don't think you'll get around to listening to them right away.
More information about
Sync
is available in
this post
.