Sync
's offerings this week (Thursday, July 19 through Wednesday, July 25, 2012) are: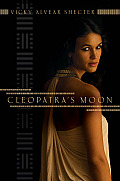 The Luxe meets the ancient world in the extraordinary story of Cleopatra's daughter.
Selene has grown up in a palace on the Nile with her parents, Cleopatra and Mark Antony--the most brilliant, powerful rulers on earth. But the jealous Roman Emperor Octavianus wants Egypt for himself, and when war finally comes, Selene faces the loss of all she's ever loved. Forced to build a new life in Octavianus's household in Rome, she finds herself torn between two young men and two possible destinies--until she reaches out to claim her own.
This stunning novel brings to life the personalities and passions of one of the greatest dramas in history, and offers a wonderful new heroine in Selene.
The twin empires of Egypt and Rome mingle and clash in this towering tragedy. Impulsiveness, passion, mistaken identity and dark humor all color the fascinating dalliance between Antony and Cleopatra, the larger-than-life pair at the center of this play.
A BBC Radio 3 full cast production.
Go
here
to get this week's downloads.
Note:
these books don't expire like the e-audiobooks you get from the library. So, be sure to download the books even if you don't think you'll get around to listening to them right away.
More information about
Sync
is available in
this post
.