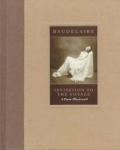 One of the few poetry books I own is
Invitation to the Voyage: A Poem Illustrated
, a gorgeous presentation of Charles Baudelaire's "Invitation to the Voyage" (from
Les Fleurs du Mal
, originally published in 1857).
I treasure this book. It is a feast for the eyes and the mind. The designer and editors set the poem--presented both in the original French and in translation by Richard Wilbur--alongside wonderfully evocative 19th century photographs. Also included in the volume is a related prose poem of the same title (published posthumously in
Le Spleen de Paris
, 1869) with a translation by Carol Cosman.
The image below is one that I took of my copy of the book. The image (
Seville, Salon de Marie de Padilla, L'Alcazar
, c. 1870-1880, photographer unknown) illustrates the following segment:
Furniture that wears
The lustre of the years
Softly would glow within our glowing chamber
There are other photograph/phrase combinations that I like better, but I had some difficulty getting clear shots and this is one that came out decently.
Even if you can't get your hands on a copy of
Invitation to the Voyage: A Poem Illustrated
, I'd definitely recommend reading "Invitation to the Voyage." Over the years a number of different translators tackled "Invitation to the Voyage" and each has his/her own take on the poem.
FleursDuMal.org
, a site dedicated to Baudelaire's poetry in general and
Les Fleurs du Mal
in particular, shares the translations done by William Aggeler, Roy Campbell, Edna St. Vincent Millay, Will Schmitz on its
Invitation-to-the-voyage page
. The Academy of American Poets features
Keith Waldrop's translation
and Richard Wilbur's translation can be read in this
MoMA lesson plan
(apparently Matisse's
Luxe, calme et volupté
was inspired by "Invitation to the Voyage").