Major Pettigrew's Last Stand by Helen Simonson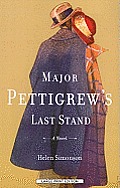 Helen Simonson's debut novel
Major Pettigrew's Last Stand
is a charming little
1
book.
It's protagonist is widower Ernest Pettigrew, a 68 year-old retired British army major. The unexpected death of Major Pettigrew's younger brother leaves Pettigrew decidedly out of sorts, but that disorientation is precisely what allows him to see the proprietress of the village shop Jasmina Ali in a new light.
As their friendship develops over errand-running, tea, and book discussions, it seems that the 58 year-old Mrs. Ali may be Pettigrew's soul mate. But will their budding romance survive in the face of malicious village gossip and a double dose of familial disapproval?
Major Pettigrew's Last Stand
has some wonderful laugh-out-loud moments. Pettigrew's development over the course of the novel is both endearing and believable. Mrs. Ali's tendency toward culturally-dictated self-sacrifice is tempered by both her intellect and unexpected passion. The novel's host of secondary characters run the gambit (sympathetic to villainous) and their actions, comments, and perspectives show the full range of those individuals like Pettigrew and Mrs. Ali and would encounter as residents of a formerly sleepy village in the English countryside.
As is likely clear by the above, I really enjoyed
Major Pettigrew's Last Stand
, which I borrowed from my mom who selected it for reading on her upcoming vacation. I loved both Pettigrew and Mrs. Ali (as well as Amina, another long-suffering secondary character) and was horrified by the insensitivity exhibited by characters like Pettigrew's son and the society ladies and the actions of some of Mrs. Ali's relatives. The thing I liked best about the the novel is that Simsonson doesn't tie everything up too neatly at the end.
At 350+ pages, Major Pettigrew's Last Stand is not a particularly short novel. "Charming little book" just seemed like the right descriptor.