Agatha H. and the Airship City by Phil and Kaja Foglio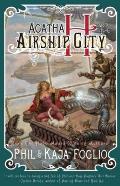 Agatha H. and the Airship City
is a novelization of the first few installments of Phil and Kaja Foglio's
Girl Genius
comic. I honestly had no intention of reading it (the comic is quite wonderful and I saw
Agatha H. and the Airship City
as nothing but an unnecessary adaptation), but my resolve faltered when in the face of a library copy sitting in my bedroom (Russell checked it out intending to read it himself).
First things first - I have to say that I hate the cover art for
Agatha H. and the Airship City
in particular the portrayal of the novel's protagonist (cover-Agatha seems both emaciated and insipid to me). It boggles my mind that the publisher would commission art from an artist (it had to be commissioned because it clearly depicts characters from the novel) when the novel's authors include an artist, who has previously (and extensively) drawn the characters.
As expected I began
Agatha H. and the Airship City
with a healthy dose of skepticism. But I am happy to report that the more I read of the novel, the more I liked it, but still not as much as I like the comics. The storyline has been filled out and embellished (fuller backstories, for example), but so much of what is portrayed only through the art in the original is lost in the novelization and the tone, especially at the outset, is much bleaker.