I am the Messenger by Markus Zusak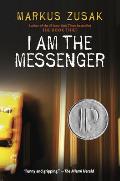 I am the Messenger
is a book that's been sitting on my shelf for quite some time. I'm quite sure why I kept passing it over. It's a
Printz
honor book and I associated it with Joan of Arc (confusing it with
The Messenger
? or maybe because I'd read a review or synopsis of the book that included the protagonist's comparing himself against what others, including Joan, had achieved by the time they were his age), two things that should have made me want to pick up
I am the Messenger
straight away. In any case, I finally did get around to reading it a few days ago.
I am the Messenger
is told in the first person and opens with a bank robbery in progress. That sounds interesting and compelling, but the first few pages were nothing of the sort (at least for me). The very beginning seemed a bit too familiar so I suspect that I may have started
I am the Messenger
when I first acquired it and that unremembered false start with the novel would explain my reticence to pick it up again. This time I soldiered through Ed (narrator and protagonist) and his friends baiting the bank robber (who is armed even though they think he's incompetent) and the further I got into the story, the more invested I became in Ed and his quest(s).
Playing cards with cryptic messages are delivered. Ed Kennedy, our hapless nineteen-year-old taxi-driving protagonist, must follow the clues where they lead him and trust his instincts (to effect change within the lives of the individuals to whom he's led) because, in the words of the puppet master, "[his] life depends on it" (113).
The one thing that disappointed me was the reveal. I appreciated the story's resolution (what happens with each of the main characters), but I thought the reveal was a bit much. While I admit that there is something intellectually satisfying about who is responsible for the cards/quests and Ed's transformation, I personally would have preferred for it to have remained a mystery. That being said, I really did enjoy
I am the Messenger
. I liked the story and I loved its message.
The scene where Ed goes to the public library is one of my favorites. Not just because Ed goes to the library to do research, but because he's coming into his own, standing up for himself, and not letting others make him feel inadequate. Not that I condone talking back to librarians, of course.
"Listen," says the library man. I'm at the counter with all the books. "You can't borrow that many. There's a limit, you know [...]"
[...]
He looks up. "You still want all those books, don't you?"
"That's right." I pile them up onto the counter from the floor. "Basically, I really need them, and one way or the other, I'm going to get them. Only in today's sick society can a man be persecuted for reading too many books." I look back into the emptiness of the library. "They're hardly jumping off the shelves, now, are they? I don't think anyone else wants them just now." (211)
I also liked Ed's first interaction with "the library man," but the whole conversation was a bit long and the best bit isn't quite as good taken out of context.