I thought I'd start out by sharing
a few of my all-time favorite books...

The Storyteller by Mario Vargas Llosa
At a small gallery in Florence, a Peruvian writer happens upon a photograph of a tribal storyteller deep in the jungles of the Amazon. He is overcome with the eerie sense that he knows this man...that the storyteller is not an Indian at all but an old school friend, Saul Zuratas. As recollections of Zuratas flow through his mind, the writer begins to imagine Zuratas's transformation from a modern to a central member of the unacculturated Machiguenga tribe. Weaving the mysteries of identity, storytelling, and truth, Vargas Llosa has created a spellbinding tale of one man's journey from the modern world to our origins, abandoning one in order to find meaning in both.
I haven't read this one in a while, but I still consider it my favorite book.
The Book of Laughter and Forgetting by Milan Kundera
Rich in its stories, characters, and imaginative range, The Book of Laughter and Forgetting is the novel that brought Milan Kundera his first big international success in the late 1970s. Like all his work, it is valuable for far more than its historical implications. In seven wonderfully integrated parts, different aspects of human existence are magnified and reduced, reordered and emphasized, newly examined, analyzed, and experienced.
Ok, I'm a bit of a Kundera junkie. I've read every book the man has written, but this one is my favorite (though Immortality is a close second... and his nonfiction books are superb!).
Some quotes from the novel.
All We Know of Love by Katie Schneider
Jo Shepherd grew up on a farm in the Pacific Northwest under the loving care of her grandfather, Frank. After spending months nursing him through his final painful illness, Jo receives a vision of the Virgin Mary, who sends her to Italy to live out her dream of becoming an artist. In doing so, Jo must leave behind her home and her best friend Jack, and risk losing him forever.
This is the debut novel from an unknown author.
I thought it was wonderful and I've read it at least three times. What can I say? This book just spoke to me on so many different levels.
I'm eagerly awaiting Schneider's next book, though I'm a little worried that I won't like it as much as this one.
The Handmaid's Tale by Margaret Atwood
Margaret Atwood's dystopian, futuristic novel.
This is one of those books that people either love or they hate. I'm one of those who loves it. It's different than alot of Atwood's other books, but in the same vein as Oryx and Crake.
In an interview about The Handmaid's Tale, Atwood said: "I believe as the Victorian novelists did, that a novel isn't simply a vehicle for private expression, but that it also exists for social examination."
The God of Small Things by Arundhati Roy
The story of the tragic decline of an Indian family whose members suffer the terrible consequences of forbidden love, The God of Small Things is set in the state of Kerala, on the southernmost tip of India.
A beautiful and brilliant book, richly deserving of the Booker Prize that it won in 1997.
I will say that I'm pretty disappointed that we haven't seen more fiction from Roy... I know she wants to do the politics thing, but she has such a talent for fiction that it seems a waste to push it aside.
Harry Potter and the Goblet of Fire by JK Rowlings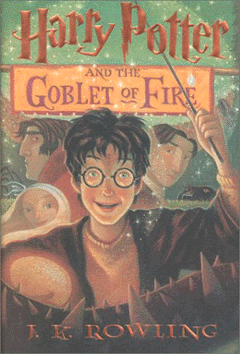 The forth book of the Harry Potter series is my favorite so far.
Fourteen-year-old Harry Potter joins the Weasleys at the Quidditch World Cup, then enters his fourth year at Hogwarts Academy where he is mysteriously entered in an unusual contest that challenges his wizarding skills, friendships and character, amid signs that an old enemy is growing stronger.
If you like audio books, Jim Dale's narration of the books from this series is wonderful.
Pride and Prejudice by Jane Austen
Jane Austen's perfect comedy of manners--one of the most popular novels of all time--features splendidly civilized sparring between the proud Mr. Darcy and the prejudiced Elizabeth Bennet as they play out their spirited courtship in a series of eighteenth-century drawing-room intrigues.
A classic that's not to be missed, but *PLEASE* steer clear of the latest printings, which include introductions by chick-lit authors... ugh!
See my friend Antheras' blog for more details.
The Big Book of Martyrs: Amazing but True Tales of Faith in the Face of Certain Death!, published by Factoid Books
by John Wagner and over 50 of the world's top comic book artists.
Taken directly from Church-sanctioned sources, these short bios retell the incredible lives of the saints.
This is really just one of the coolest books... the lives of various martyrs are told through comics. And, amazingly enough, the book is not irreverent.
Invitation to the Voyage: An illustrated poem, published by Bulfinch Press (bi-lingual edition)
Charles Baudelaire's masterpiece is brought to life with mood-laden 19th century photographs in this wonderful new presentation of a classic.
Another book that is just a wonderful experience to read.
The Thurday Next books
by Jasper Fforde
Books in the series so far: The Eyre Affair, Lost in a Good Book, The Well of Lost Plots, and Something Rotten
This series is simply wonderful. I love Fforde's literary references (they make you want to read the classics all over again!), his fabulous sense of humor, and his awe-inspiring imagination.