Steampunk! An Anthology of Fantastically Rich and Strange Stories
edited by Kelly Link and Gavin Grant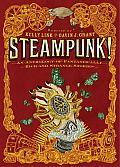 I posted about
Steampunk!
back in June, but the anthology is out this week so it seems like the perfect time for another post.
There's a
great review
written by
Steampunk Scholar
up on one of the
Tor.com
blogs.
My favorite stories in the book were "
Clockwork Fagin
" by Cory Doctorow, "
Everything Amiable and Obliging
" by Holly Black, "
Finishing School
" (comic) by Kathleen Jennings, "
The Last Ride of the Glory Girls
" by Libba Bray, "The Oracle Engine" by M. T. Anderson, "
Steam Girl
" by Dylan Horrocks, and "
The Summer People
" by Kelly Link.