The first book I read in 2007 was actually a book I received from a friend as part of the "A new book for a new year" exchange. The purpose of the exchange is to expose the participants to something new, something outside of their usual genres, something that they wouldn't pick up on their own, but something that they might actually like, possibly turning them on to something completely new in the new year.
My partner sent me a psychological thriller (one that would probably be classified as "sick shit" by connoisseurs of the genre):
Violation by Darian NorthSynopsis: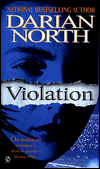 In the lush redwood country of Humboldt, California, a man and a woman seek shelter from their pasts. He is an ex-L.A. cop whose life was torn apart by guilt and betrayal. She is a woman haunted by a savage attack she never should have survived. Althea Auben is a struggling single mother, holding together the ragged pieces of her life for the sake of her thirteen-year-old son. She lives in the shadow of her past, carrying the scars from the terrible night that left her brutalized, comatose, and pregnant. But David has started to rebel. He no longer believes his mother's lies about his own history. Desperate for a man in his life, he befriends Jack Verrity, who seeks privacy almost as much as Althea. Then, without warning, David disappears. Battling her paralyzing fears, Althea takes off in pursuit of her vanished son. Jack, feeling long-dormant emotions stir, begins a search of his own. It is a journey that will thrust them into a world of privilege and exclusion on Long Island's Gold Coast - and plunge Althea into the fresh terror of a long-ago summer night...
Definitely not my usual fare, but I did enjoy it. It was a perfect selection for this exhange because it got me out of my usual reading genres, challenging me with a "scary" book that I probably wouldn't pick out on my own, and it wasn't too far outside of my comfort zone.