Monstrous Beauty by Elizabeth Fama
(source:
public library
)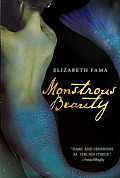 In the early 1870s in Plymouth, Massachusetts, a mermaid named Syrenka falls in love with a young naturalist and decides to give up her immortality for a life on land with him. In modern day Plymouth, 17-year-old Hester disdains love because generations of her female ancestors (including her own mother) have died shortly after the birth of their first child. It is only after Hester meets the magnetic Ezra that she realizes just how naive her romance-avoidance plan was. At the suggestion of Ezra, Hester begins to research her family history in the hope of determining the true cause of the postpartum deaths and whether there's a way she can avoid her own.
Monstrous Beauty
is dark and Fama's mermaids are monstrous (in case that wasn't obvious from the novel's title). There's lots of nice historical detail for the historical fiction fan though. In addition to the sections that take place in the 19th century, Hester is also an interpreter in the 17th century English village at
Plimoth Plantation
, where they do first person interpretation.
Of Poseidon by Anna Banks
(source:
Sync
)
series: Syrena Legacy (1)
While there is a disturbing scene early in
Of Poseidon
, the novel is is much more of a standard YA paranormal romance than
Monstrous Beauty
. Its mermaids (who don't like the term "mermaid") are decidedly human-like, though they are thick-skinned and hot tempered, with a society more patriarchal than current western tastes would support.
One interesting (to me) thing about the mermaid-culture in
Of Poseidon
is that the mermaid's have archives. Their archives are individuals who serve as the collected memory of the people.
I liked
Of Poseidon
well enough and I'll probably get the sequel (
Of Triton
) from the library. I had, however, figured out the big reveal that happens at the end of the novel fairly early on. There was opportunity for second-guessing, but, from the time the mystery is apparent, I was fairly certain of its solution.