Blue Monday by Nicci French
series: Frieda Klein (1)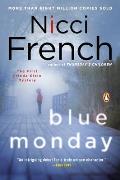 At the public library I usually select books from the new acquisitions areas. Last time I was at my local branch looking for books I happened upon Nicci French's
Tuesday's Gone
in the adult fiction new titles section. It seemed intriguing, but it was obviously part of a series so I decided to see if the first installment was available. It was.
Blue Monday
is the first in the fairly new
1
mystery (psychological thriller) series starring Frieda Klein, a psychiatrist and psychoanalyst. It's action revolves around the kidnapping of of five-year-old boy, which echoes a similar crime from 22 years earlier. When Frieda Klein begins to suspect that one of new patients may be implicated in the crime, she decides that she must give what information she has to the police. DCI Karlsson has little use for such unsubstantiated claims, but he decides to follow up on the lead anyway when Klein suggests there may also be a tenuous link to the earlier crime. Once he appreciates the usefulness of her skill set, Karlsson asks Klein to consult on the case. As she gets more personally invested in the case, Klein starts working on it independently.
All is all, I think
Blue Monday
is a promising start to a series. The protagonist as psychoanalyst invites all sorts of possibilities in terms of crimes perpetrated and methods of investigation. The author(s)
2
have included a nice variety of significant secondary characters that will no doubt be involved in both side stories and the main action in future installments. They've also hinted at a complicated backstory for Klein.
I won't say too much more about the plot of the novel itself for fear of including spoilers, but I will say that I found the realization of the ending was particularly creepy even though it was just a confirmation of something I already suspected.
Blue Monday was published in 2011 in the UK. The series' third installment, Waiting for Wednesday, is not yet available in the US.
Nicci French is actually a husband-wife writing team.