Stephen Lawhead's King Raven Trilogy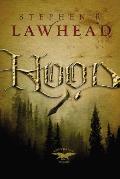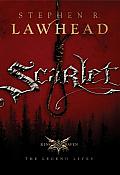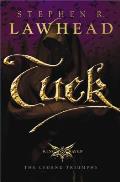 I read through most of Stephen Lawhead's
King Raven Trilogy
while I was sick with the worst cold ever earlier this month. From the series' titles (
Hood
,
Scarlet
, and
Tuck
), it's fairly obvious that it's a retelling of the legend of Robin Hood. I don't remember acquiring the books in the trilogy, but I suspect that they came from my dad. Russell and I found then when we were going through our book collections pre- and post-move and decided to keep them since we were both somewhat interested in reading the series (I graciously offered to make space for the books on one of my bookshelves rather than making Russell house them on one of his).
In any case, the trilogy is set in late 11th century Wales. Lawhead seems concerned that readers will find fault with this relocation of Robin and his merry men and he outlines his reasoning for doing so in the novels' afterwords. For what it's worth, I think his case is solid. Lawhead's Robin Hood is a Welsh prince named Bran (raven). His father, the king of Elfael, is killed in an ambush and the kingdom ceased by a Norman nobleman (with the blessing of William II). Rhi (king) Bran takes to the forest from whence he and his supporters plague the Normans.
Overall the series is an interesting and enjoyable read. Lawhead incorporates Celtic mythology and believable period political intrigue into the legend. My one big complaint is about how and when the "Friar Tuck" and "Little John" monikers were introduced (too soon, too close to one another, and, in the case of Little John, in too contrived a way). The other thing I found strange about the series has to do with the progression of narration. The second book,
Scarlet
, is the first person narrative of one of the Bran's supporters. I didn't dislike the way the story was told in the second installment, in fact I quite liked the framed narrative, but reading the books one right after the other I was struck by the incongruity of the series narration.