Lord of the Vampires by Gena Showalter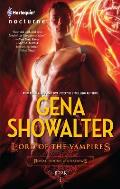 Lord of the Vampires
is the first book in Harlequin's
Royal House of Shadows
series, a set of four paranormal romances, each based based on a fairy tale.
Lord of the Vampires
is inspired by Lewis Carroll's
Alice in Wonderland
and Jill Monroe's
Lord of Rage
by "Goldilocks and the Three Bears," while
Lord of the Wolfyn
by Jessica Andersen is based on "Little Red Riding Hood" and Nalini Singh's
Lord of the Abyss
on "Beauty and the Beast."
I haven't read any of the other books in the
Royal House of Shadows
series and based on my experience with
Lord of the Vampires
, I'm not sure that I'd want to. I like the premise of the series, which is why I requested a review copy of the first installment, but I'm baffled by the execution. I really did not enjoy
Lord of the Vampires
at all. The only reason that I didn't give up on the novel entirely is that I'd been promised a retelling of a fairytale (at the time that I was reading the novel I didn't know which tale Showalter had taken as her inspiration) and I was determined to find that story. I didn't, though.
Alice in Wonderland
didn't cross my mind as a possible inspiration because it is not a fairy tale. And while looking back now I can see how Showalter used
Alice in Wonderland
as a jumping-off point, I'm not sure that I'd have seen
Alice in Wonderland
in
Lord of the Vampires
without having been told to.
While the lack of an obvious fairy tale inspiration was a disappointment to me, it was by no means the only one. I couldn't connect to either the hero or the heroine and, more important given the fact that
Lord of the Vampires
is a romance novel, their relationship lacked any semblance of romance. Yes, there was sexual chemistry, but lust and ownership completely overwhelmed any bit of connection I saw between the two. Jane was not a sympathetic character and her willingness to go along with Nicolai made little sense in the face of his treatment of her. The only thing Nicolai had going for him was magnetic sexuality. He was domineering and manipulative and he lacked much in the way of redeeming characteristics.
The story was over complex difficult to follow with its multiple flashbacks and magic-induced memory loss (maybe this confusion is an intentional nod to
Alice in Wonderland
) and it succeeds in feeling both slowly paced and rushed. Suffice it to say that I couldn't wait for this one to end. I haven't read much of Showalter's work (just
one of her young adult novels
), but I suspect that
Lord of the Vampires
not typical given how strong her following is.
disclosure: I received a review copy of Lord of the Vampires from Harlequin Nocturne via NetGalley.