The Tenth Circle by Jodi Picoult
Synopsis: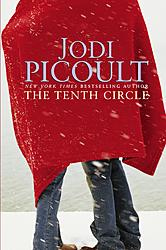 Trixie Stone is fourteen years old and in love for the first time. She's also the light of her father's life — a straight-A student; a freshman in high school who is pretty and popular; a girl who's always looked up to Daniel Stone as a hero. Until, that is, her world is turned upside down with a single act of violence...and suddenly everything Trixie has believed about her family — and herself — seems to be a lie.
The Tenth Circle looks at that delicate moment when a child learns that her parents don't know all of the answers and when being a good parent means letting go of your child. It asks whether you can reinvent yourself in the course of a lifetime or if your mistakes are carried forever — if life is, as in any good comic book, a struggle to control good and evil, or if good and evil control you.
I've read quite a few of Picoult's books --
Keeping Faith
,
Mercy
,
My Sister's Keeper
,
The Pact
,
Plain Truth
-- and I have to say that
The Tenth Circle
is pretty typical of her work. There's a family filled with fairly well-drawn characters, there's stress and strain within that family, and there's an issue (I like to call Picoult's work "issue fiction").
What makes the book stand out from the other books in her oeuvre is the integration of the graphic novel into the story. The artwork by Dustin Weaver fits well into the novel, a segment at the beginning of each chapter, masquerading as a graphic novel that the father is working on during this tumultuous time in his life.
I liked Picoult's use of Dante and native culture in this book, but I wasn't terribly surprised by it because she's done something along those lines in some of her other books (most notably in
Plain Truth
and
Mercy
).
The quick and dirty review: One of her better books, but I wasn't blown away by it.