Artistic License by Katie Fforde
(I actually posted on this book yesterday, but for some reason that post magically disappeared during blogger maintenance)
Synopsis:
Fed up with being mother to a houseful of students, Thea accepts her bossy friend Molly's offer of an art appreciation holiday in Provence. While there, Thea meets gorgeous Rory, an artist who, despite being several years younger, is as attracted to her as she is to him.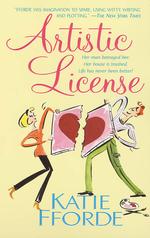 So, when Thea hears that her student lodgers have had a party and her house is a tip, she decides to extend her holiday and accept Rory's invitation to his house in Ireland, where she discovers a studio full of wonderful painting. But her home life won't leave her alone. Molly, her annoying niece Petal, not to mention their enigmatic cousin Ben and his son Toby, all appear on the doorstep, just as Rory's dog is about to have puppies. And then everyone is roped into helping when Thea decides to open an art gallery to show Rory's work. But will she end up with Rory, who wants her, or with Ben, who, maddeningly, doesn't seem to?
I had a stressful day at work on Friday so I just wanted to read something light with a happy ending. I saw this book on my TBR bookcase and it looked like it fit the bill.
An enjoyable, relatively quick read. It was a bit hard to get into the book at first, but then the story seemed to flow quite well. Thea was a very sympathetic character (even though she has way more gumption than I ever will).