Waistcoats and Weaponry by Gail Carriger
series: Finishing School (3)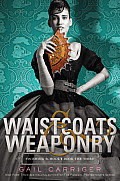 Waistcoats and Weaponry
is the third book in the
Finishing School
series after
Etiquette and Espionage
(see
post
) and
Curtsies and Conspiracies
. I'd had it on my wishlist ever since that once-just-books-now-everything online retailer had it available for pre-order. Since it came out in November, I didn't go ahead and buy myself a copy in the hopes of getting it for Christmas.
1
So sure was I that I'd have a copy of
Waistcoats and Weaponry
in hand by the end of December
2
that I started rereading
Etiquette and Espionage
in preparation.
3
And get it for Christmas, I did - two copies! Both Russell and my mom purchased the book from my wishlist at that site.
4
I assured my mother, who was quite a bit more concerned about the duplicate gift than Russell, that getting two copies was not a problem at all and that I knew exactly what to do with the second one. A few days later I sent it along to sister-in-law #3 and niece #1, to whom I'd previously given the series' first installments.
In any case because I also wanted to reread
Curtsies and Conspiracies
before I started my new acquisition,
Waistcoats and Weaponry
ended up being the first book I finished in 2015. It was a good way to start the year because it was such a satisfying read, giving me exactly what I've come to expect from Carriger, whose work I enjoy (see
posts
), and from this series in particular. In
Waistcoats and Weaponry
, Sophronia and her friends are properly transitioning out of childhood (complete with the realization that maybe they aren't quite ready for everything that means) and Carriger handles it beautifully. It's also significant to note that I finished
Waistcoats and Weaponry
with a desire to reread the
Parasol Protectorate
books (see
post
) because of a suspicion that if I look closely enough I may find evidence of another of the
Finishing School
characters that I didn't original recognize as a character from
Parasol Protectorate
.
I tried my best to ensure this eventuality by dropping copious hints to Russell.
If Santa et al failed me I was prepared to purchase a copy myself.
When it's been a while since I've read a series earlier installments, I like to reread them so that they are fresh in my mind before I start the latest one. Also, see note #1.
Site hiccup or user error? You be the judge.