Wintersmith by Terry Pratchett
series: Tiffany Aching (3); Discworld (35)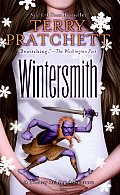 With so many parts of the US having a particularly cold and/or snowy winter and
Punxsutawney Phil
predicting another 6 weeks of winter today on Groundhog Day
1
, Terry Pratchett's
Wintersmith
seems like the most appropriate of reading choices.
Wintersmith
is the third book in Pratchett's
Tiffany Aching Adventures
(after
Wee Free Men
and
A Hat Full of Sky
), which follows the coming-of-age adventures of a young witch (and her bumbling, not-quite-accidental helpmeets, the Nac Mac Feegle
2
) who lives within his
Discworld
world.
In
Wintersmith
, Tiffany inadvertently draws the attention of the titular character, who is the personification of the winter. The Wintersmith's attempts to woo Tiffany yield a long and preposterously harsh winter (with Tiffany-shaped snowflakes no less). Tiffany must find a way to subdue with Wintersmith while, unbeknownst to Tiffany, the Nac Mac Feegle train up a hero (who will be familiar to readers of the series) to rescue Spring from the underworld (that hero himself draws the parallel to Orpheus). More importantly (from the bildungsroman
3
perspective at least), Tiffany must take responsibility for her role in attracting the Wintersmith.
I've mentioned before that the Tiffany Aching books were my primary reading matter during the recent family flu epidemic. While I enjoyed the books (which came highly recommended by my father), I feel like I would have liked them better if I hadn't read them one right after the other.
4
It just seems to be that my reading of the series would have benefited from enough of a gap that absolutely everything from the previous installment(s) was not so fresh in my mind.
Groundhog Day (aka Candlemas): "On Candlemas the woodchuck is said to emerge from his hibernation in order to look for his shadow. If he sees it, he will return to his burrow for six more weeks. If he doesn't, he knows that spring will arrive soon. The belief is related to the association of Candlemas with the sowing of the crops, sunny weather foreboding harsh days and so poor planting" (The Folklore of American Holidays edited by Cohen and Coffin, 65).
The titular characters of Wee Free Men. Loveable rogues, the Nac Mac Feegle are like tiny, very clannish Scotsmen, who happen to be fairies (or pixies, I guess) and have the social structure of bees. Their primary interests are drinking, brawling, and stealing.
I suppose this should be bildungsbuchreihe (or something like that) since it's not a novel, but the overarching storyline of a series.
Some series beg for binge reading, others do not.