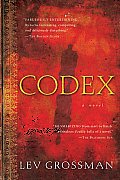 Per the
Bookcrossing journal
for my copy of
Codex
, I've had it in my possession since March 5, 2006. Now that I've finally read the book, I feel badly for keeping it so long. And, it's not that I enjoyed it so much that I wish I had read it sooner. I didn't like it nearly as much as I thought I would and I feel badly that this copy waited six years for me not to like it. That may not make very much sense, but there you have it. I'll be wild-releasing this book shortly and I hope that it finds itself an amenable new reader soon.
A 25-year-old investment banker who is inexplicably asked to catalog the extensive library an aristocratic family, for whom he'd made some good investments, in the two weeks he has before he starts a new position. As he begins working on the project, Edward Wozny learns that his real mission is to locate an extremely rare (possibly mythical) 14th century text. His employers have a vested interest in whether or not this text comes to light and they will do everything to help (or hinder) him in his quest. At the same time, Edward starts playing an open source computer game on the recommendation of a longtime friend. As he navigates further into the world of the computer game, Edward notices echoes of the story that's meant to be contained within the book for which he's searching.
I didn't find
Codex
particularly thrilling. In fact I really only finished it out of laziness. It was easier to just continue reading the book than it was to give up on it and start something else (I wasn't near my book collection at the time). I was not rewarded for my perseverance: the novel's ending is particularly unsatisfying. Even if (
especially
if) I'd liked the book all along I would have been disappointed with the anticlimactic nature of the ending.